Conference Goal
The ECCCS-2 conference aims to promote the dissemination and exchange of scientific information on the crashworthiness of composite structures. It provides an excellent forum for combining academic research and industrial works to examine crashworthiness of composite structures, as experimentally, as numerically in a wide range of domains such as aeronautics, space, automotive, sport…
Please feel free to disseminate the pdf version of the call for participation.
Topics of interest include, but are not limited to:
Damage Mechanics
Dynamics
Experimental Methods
Fatigue
Fracture Mechanics
Impact
Novel Numerical Methods
Micro-mechanics
Model Identification
Multi-scale Modelling
Multifunctional Materials
Novel Materials
Optimisation
Laminated and Textile Composites
Probabilistic Methods
Progressive Failure Analysis
Reduced Order Models
Virtual Testing
Participation
This conference invites research experts and industry practitioners from multidisciplinary backgrounds. It includes invited speakers, and works' presentation via abstract submissions and selection with an international scientific committee.
Authors are invited to submit an abstract of maximum 2 pages. Abstracts will be reviewed by the program committee and may be accepted for oral or poster presentation. Online abstracts compilation will be published as open access on OATAO (Open Archive Toulouse Archive Ouverte).
Abstract submission is optional: academic, industrial, and students participants can attend the conference even without presentation or poster.
Program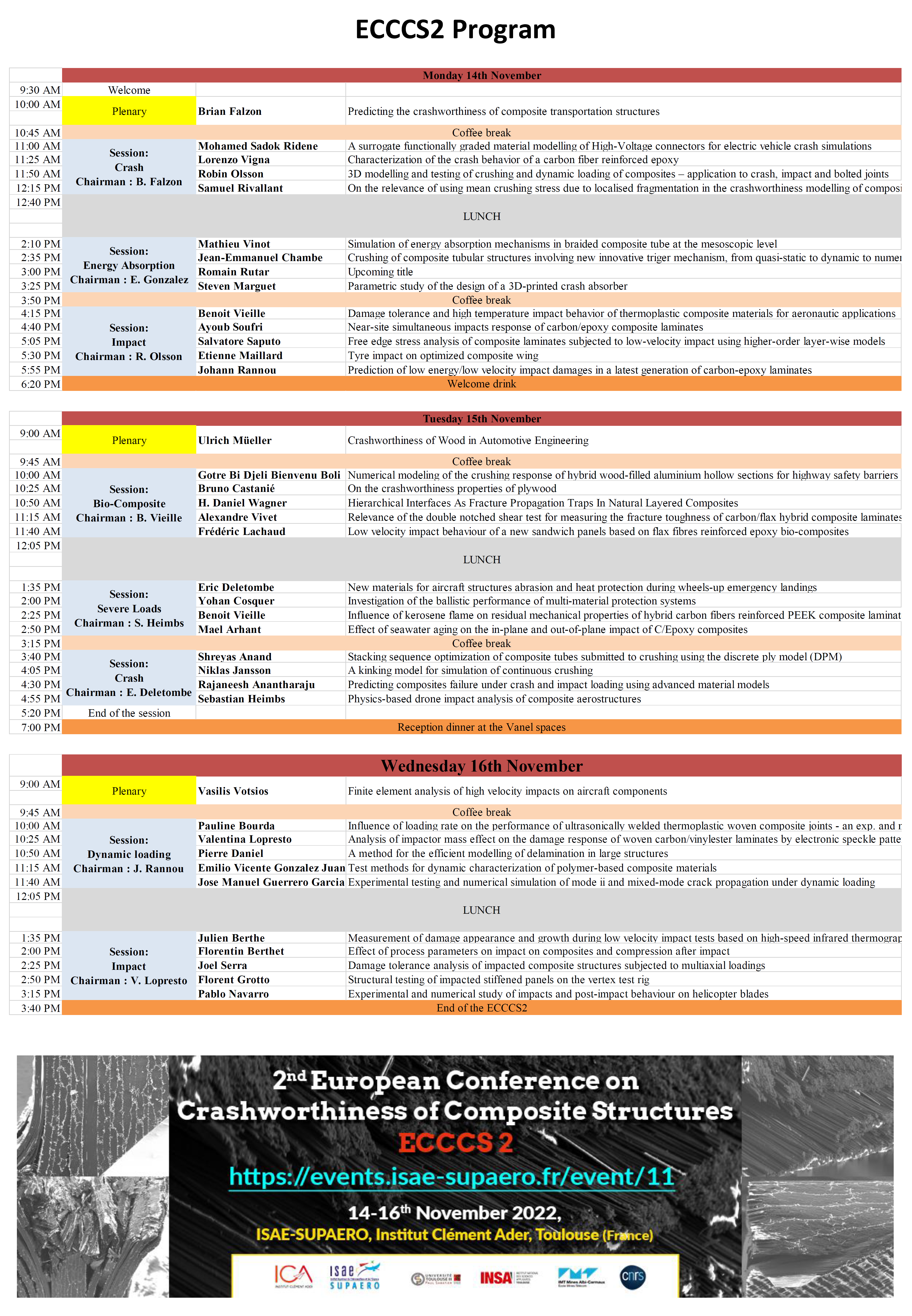 Abstracts
List of abstracts
Keynotes speakers
Prof. Brian G. Falzon is the Director of RMIT University's Space Industry Hub and SmartSat CRC Victorian Node, and Chair in Advanced Composite Materials and Aerospace Structures. He was Head of School of Mechanical and Aerospace Engineering at Queen's University Belfast, from 2015 to 2021, Director of the Advanced Composites Research Group, and was appointed to the prestigious Royal Academy of Engineering – Bombardier Chair in Aerospace Composites in 2013. Between 2008 and 2012 Prof Falzon held the Foundation Chair in Aerospace Engineering at Monash University in Melbourne, Australia, where he was also Director of Research, Head of Aerospace Engineering and Deputy Head of the Department of Mechanical and Aerospace Engineering. He is internationally renowned for his work on the computational analysis, design, manufacture and testing of advanced composite aerospace structures. He has published over 200 peer reviewed journal/conference papers and book chapters, one book, and edited three others. He made seminal contributions to the analysis of structural stability of thin-skinned composite aerostructures which had a significant influence on the innovative designs subsequently implemented by Boeing Aerostructures Australia on the Boeing 787 and FA-18E/F programs. His modelling work on hydraulic shock helped the UK Ministry of Defence assess Eurofighter vulnerabilities. Prof Falzon was also key in helping define new modelling methodologies for the UK government-backed research program, 'Next Generation Composite Wing'. His work on composite failure mechanisms, impact damage modelling and fracture toughness characterization have helped NASA projects, such as the NASA Advanced Composites Project, which focused on developing reliable methods to predict structural failure.

Dr. Ulrich Mueller is private lecturer at the Institute of Wood Technology and Renewable Materials, BOKU-Vienna. His presentation deals with "Crashworthiness of Wood in Automotive Engineering":

Internet of Things, Industry 4.0, Artificial Intelligence, Robotics, ... Our world is full of new terms and no sooner have you got used to one than new ones are added. Even the rather old-fashioned wood industry has to move with the times, and I recommend replacing the "MUST" with a "WILL". Because the opportunities this opens up for the wood industry as a central representative of eco-design and bio-economy are great. Using the example of the WoodC.A.R. project (www.woodcar.eu) and future planned research activities, I would like to show you what digitalization can mean for the vehicle industry, but also for the wood industry, in the future. The creation of virtual twins for product and process show unexpected opportunities and possibilities. They will be valuable helpers in the future for product development, eco-product design, market development and process reliability. With my keynote lecture, I would like to guide you through the world of digitization of wood. It is the basis for the use of this old/new material as well as other bio-based materials in the world of the automotive industry. The lecture gives a summary of a total of 7 years of research in the field of wood in vehicle construction with a total research volume of approx. 8 million euros.

Dr. Vasilis Votsios is Dynamic and Impact Analysis Expert at Airbus, Madrid, SPAIN and Associate Professor at Universidad Carlos III, Madrid, SPAIN

He got his PhD in 2003 in Mechanical Engineering entitled "Contact mechanics and impact dynamics of non-conforming elastic and viscoelastic semi-infinite or thin bonded layered solids" at Loughborough University, UK
Important dates
| | |
| --- | --- |
| | Abstract submission & registration opens |
| | Abstract submission deadline |
| | Acceptance notification |
| | Early bird registration fee payment deadline |
| | Late registration fee payment deadline |
| | ECCCS-2 conference |
Conference location
The conference will be held in amphitheatre 4 at ISAE-SUPAERO, 10 Avenue Edouard Belin, 31055 Toulouse, France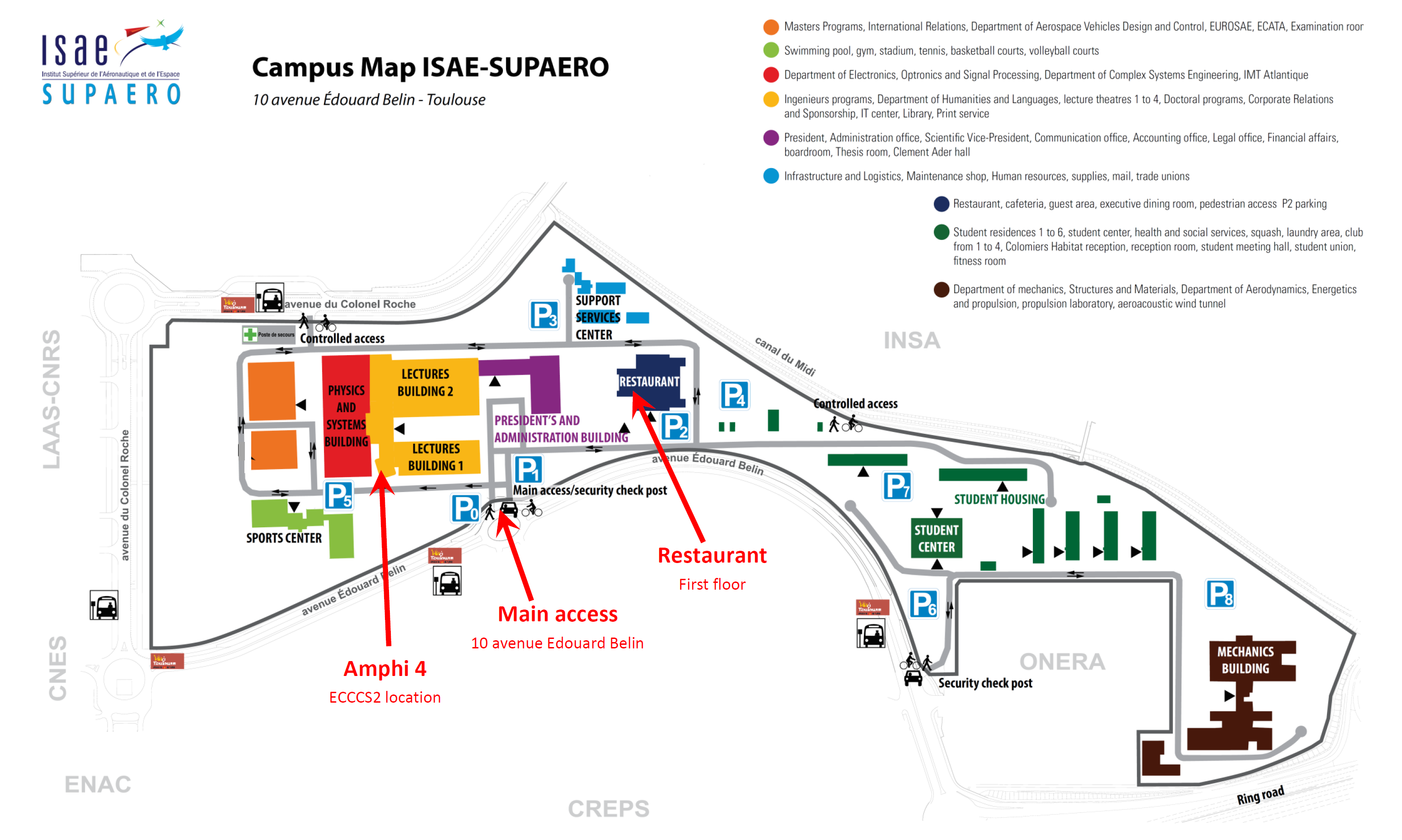 Registration fees
| | |
| --- | --- |
| | 300 Euros |
| | 200 Euros |
The Conference registration fee includes:
Participation in all oral sessions

Entrance to the exhibition/poster session area

Access to full conference abstracts

Refreshment breaks

One ticket for the reception dinner held at the rooftop of the Vanel spaces in the city center, located right in front of the new "Las

Ramblas"