Conference Goal
We are pleased to organize the RESONANCE Conference in Toulouse, France, from July 10th to 13th 2023. This conference aims bringing together researchers, scientists and industry professionals to provide a forum with the most recent advances in the fields of structure vibrations, structural health monitoring, and acoustics and the opportunity for interacting in a collegial atmosphere.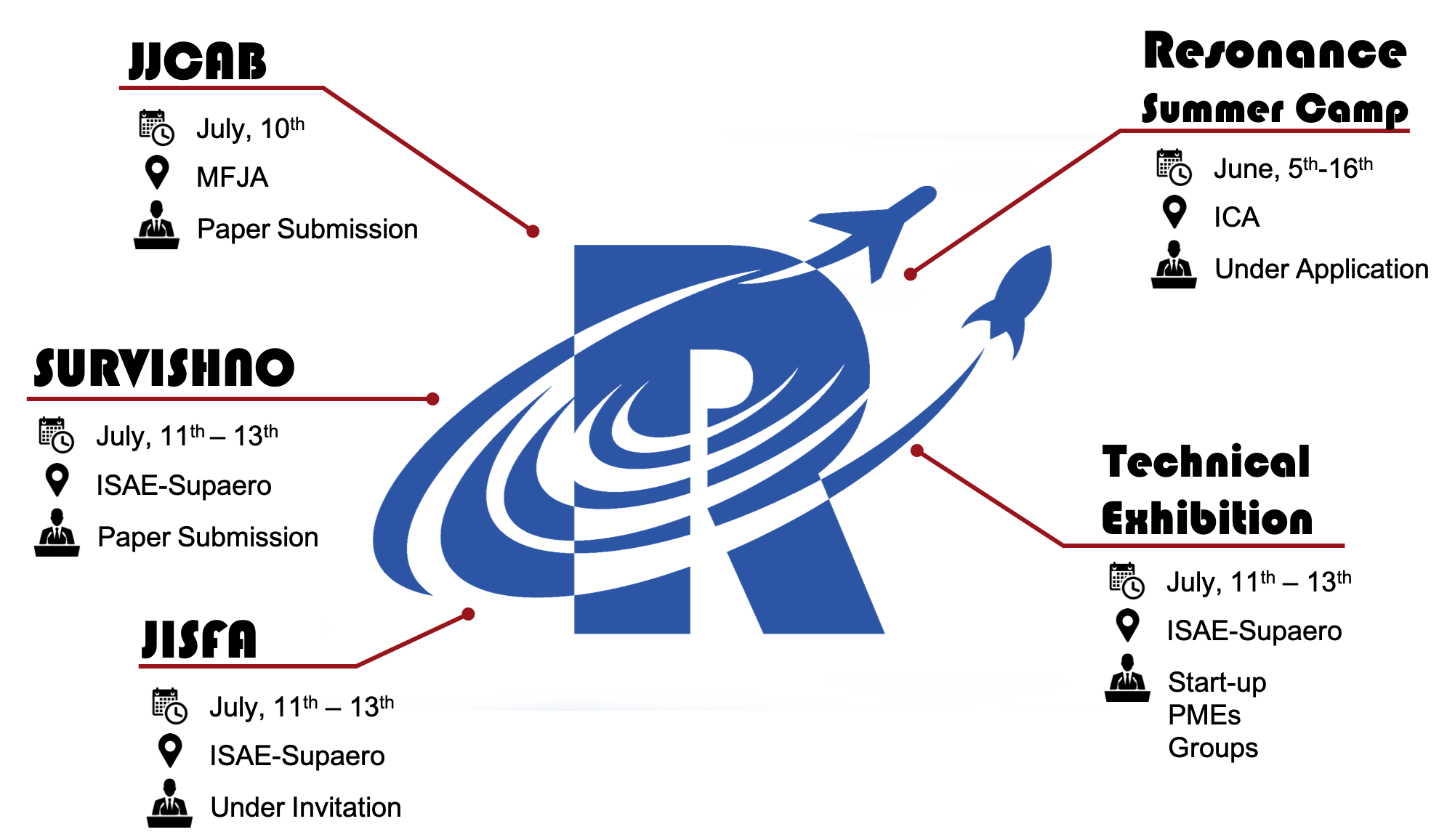 The RESONANCE Conference aims at gathering the following subevents together at the same time and place:
SURVISHNO

(SURVeillance, VIbration, SHocks and NOise)

JISFA

(Industry Days of the French Acoustical Society)

JJCAB

(Young Researchers in Acoustics, Vibration and Noise)

RESONANCE SUMMER CAMP (Research on Nonlinear Vibration Control Enhancement)
TECHNICAL EXHIBITION
SURVISHNO
SURVISHNO is a joint organization of the conferences Surveillance, VISHNO (Vibration Shocks and Noise) and EVA (Experimental Vibration Analysis).

Participation:
Submission of Extended Abstract or paper for oral presentation in english

Important dates:
February 1st 2023: Deadline for submission of abstracts
June 1st 2023: Deadline for submission of complete paper or extended abstract

More details: here
JISFA
JISFA is a Industrial Day from the French Society of Acoustics.

Participation:
Invited Industries are sharing their scientific advances in oral presentations

More details: here
JJCAB
JJCAB

JJCAB is an scientific day organized by the PhDs for the PhDs students.

Participation:
Flash oral presentation and poster presentation

Important dates:
April 15th 2023: Opening of the abstract submission
May 15th 2023: Abstract submission deadline

More details: here
Resonance Summer Camp
Resonance Summer Camp aims at gathering PhD researchers to develop collaborative scientific projects in the field on Nonlinear Dynamics.

Participation:
Candidate application

Important dates:
June 5th -16th

More details: here
Technical Exhibition
Technical Exhibition

Technical Exhibition displays the most recent technologies, products and software for application in acoustic and vibration domain, provided by the companies and corporate groups.

Participation:
Start-up, micro to medium companies and corporate groups

Exhibitors' activities:
Instruments, Measurement systems, Acoustic and vibration control technologies, Software

More details: here
Conference location
The conference will be held in the amphitheaters at the "Maison de Formation Jacqueline Auriol" (MFJA) and at the ISAE-SUPAERO, Toulouse, France.
Registration fees
| | |
| --- | --- |
| | 500 Euros |
| | 600 Euros |
| | 100 Euros |
The Conference registration fee includes:
Participation in all oral sessions

Entrance to the exhibition/poster session area

Access to full conference abstracts proceedings

Refreshment breaks

Tickets for the midday meals

One ticket for the reception dinner
One ticket for the gala dinner